In the kitchen this March
This month I wanted to offer a typical "Sunday Afternoon Food and Ritual Remedy Prep" for you all. There are a few moving parts in this month's cooking class which I hope you can appreciate is what cooking in a modern home looks like. But there are still ways (there's that word) that we can infuse a sense of ritual and sacredness into the modern kitchen. This month we begin our cooking class with a Vedic Mantra to bless the food and ceremony of preparing ghee and cooking for a nourishing week ahead.
Liṅgāṣṭakam Stotram Mantra
Is a Mantra taught to me by @samadhicollective it is dedicated to Śiva, it is especially beneficial to recite it on a Monday which is the day associated with Śiva and it is a mantra for peace, confidence, success and willpower.
It is one of my favourite mantras to chant to embody inner peace and one that felt especially nourishing for this cooking class.
Here is a link to the mantra on youtube: https://youtu.be/XMqc0n-MQE0
As always I would love to see what you make in the community space here in the membership or on social media.
Enjoy,
X
Tinctures
Disclaimer: Tinctures are powerful herbal extracts of plants and medicinal herbs. It is important to do your research and speak to a healthcare professional if you have any conditions or are taking any medications that may be contraindicated by herbal tinctures.
To prepare you will need an Alcohol to extract the herbal properties from the medical plant: Vodka or Brandy is perfect. Vodka will have no taste where brandy will flavour the herbal tincture. If you would like the herb to stand alone then vodka may be better suited.
Ingredients:
Vodka
Desired Medicinal Herb
(This month we used dried Nettle, Fresh Raspberry leaf and Valerian Root)
Tools:
Sterilised glass jars and lids
Tincture Glass Container (for decanting later)
Mortar and Pestle (optional)
Simply grind fresh herbs in mortar and pestle and add equal parts alcohol. If you use 1 cup of raspberry leaf, add one cup of alcohol. If using dried herbs simply follow the same method and then in both instances allow the plant and alcohol to sit in a dark cool place for 4-6 weeks before decanting and using. At the 4-6 week mark the plant's soluble properties will have been extracted into the tincture and you will have a potent herbal medicine with the benefits associated with that plant medicine. Only take 1-2 drops of your tincture when required.
Ghee
Simply add 750g-1kg of organic unsalted butter to an oven pan and bake on 150 degrees for 45mins. Or until there are brown bits at the bottom of the pan. When you take it out of the oven, strain into a sterilised container and place in the fridge until set.
Harmony's Autumn Grounding Soup
Ingredients:
1.5 cup Pumpkin chunks
1-2 Potatoes
1 Carrot ,
Red or White Onion 1 of each or ½ of each,
2-3 Cloves of Garlic
1 tablespoons of Quality Veggie or stock paste
*Add any veggies you have left over in the fridge from the week before to reduce food waste. I would just avoid capscium for this dish because it has quite a strong taste that overpowers.
½ can of Coconut milk
Measure with you heart:
Salt and pepper
Turmeric powder
Mustard seeds + Herbs from the garden ( I love lemon balm, basil and thyme in mine but your tastes may prefer other herbs)
Ghee or Olive oil to cook
Water (Enough to cover the veggies)
Add all your veggies to a large pot with oil or ghee. Allow the veggies to caramelise in the pot. Cook them lovingly in your oil or ghee, season with spices and salt and let the veggies brown a little so that they release their sugars and flavours. When the veggies have reduced in size by half it is time to stir in your chopped herbs and then add in your water. Simmer on a low-med heat for 30 mins. Remove half of the soup from the pot and blend in a food processor. Mash the contents of the soup with a potato masher then add your pureed soup to the pot. Add your coconut cream and serve with micro greens of more fresh herbs.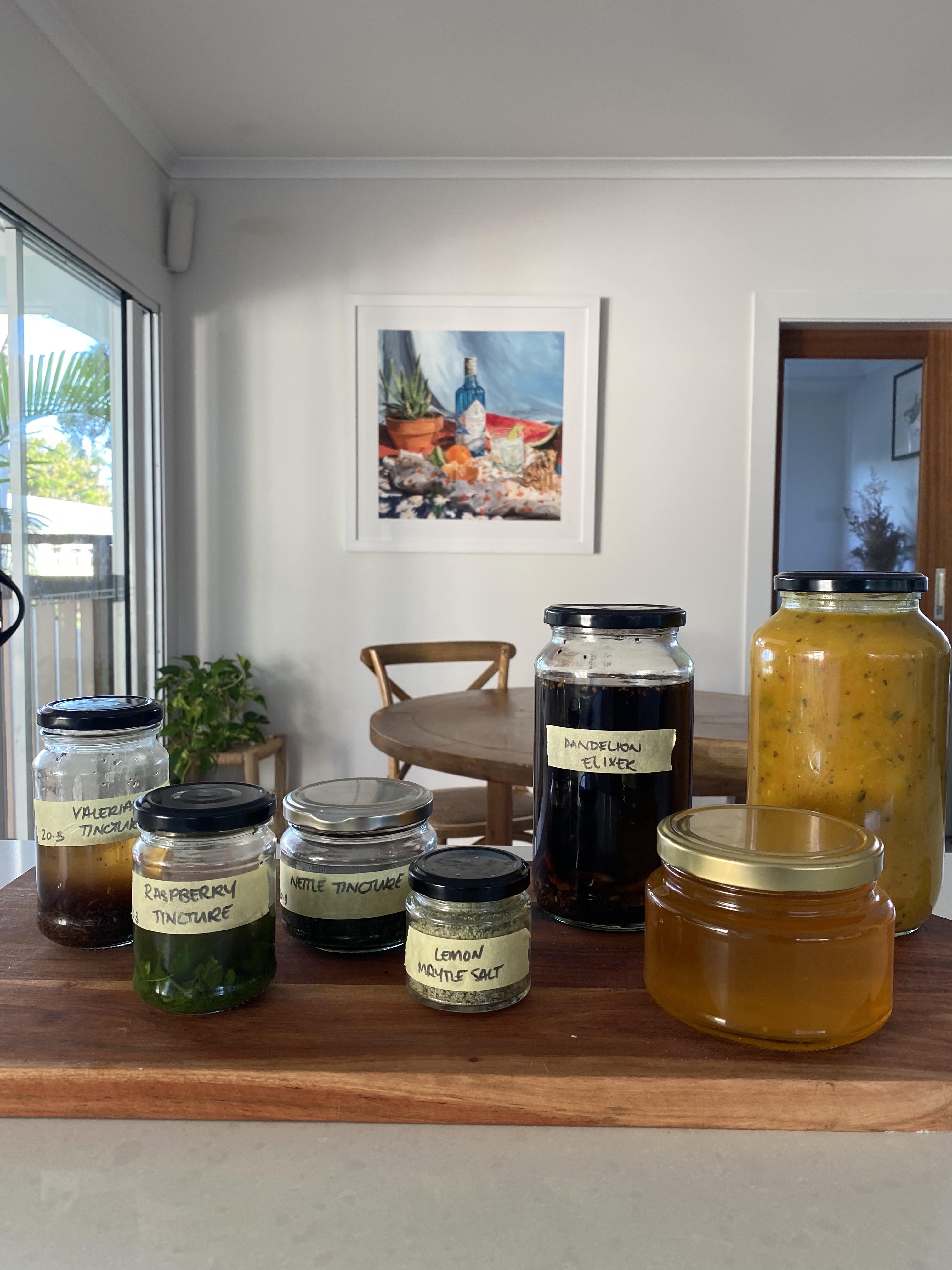 Lemon Myrtle Salt Rub:
Lemon Myrtle leaves blended with salt- A perfect gift or seasoning to add to the pantry for protein.
Watch Live Cooking Replay: